Amnesia: True Subway Horror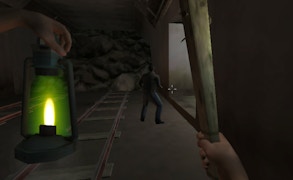 Amnesia: True Subway Horror
Immerse yourself in the chilling world of Amnesia: True Subway Horror, a game that stands out among other shooting, battle, and survival games. This gripping title takes the usual shooting game format and envelops it in spine-tingling horror elements, making it a terrifyingly thrilling addition to the realm of scary games and zombie games.
Dive into the desolate corners of your psyche as you navigate through the eerily atmospheric locations littered throughout this game. Each abandoned site is a testament to the stunning graphics conjured up by this riveting horror game. The mind-blowing 3D visuals transform every scene into a gothic masterpiece, adding to your sensation of fear and discomfort each time you venture further into the abyss.
This isn't just a game; it's a full-fledged horror experience. Every moment is fraught with tension - whether you're exploring forsaken spots or confronting ominous dark creatures lurking in every shadow. But remember, in this terrifying world, you are never truly alone.
Unlike conventional gun games, Amnesia: True Subway Horror provides an arsenal of three distinct weapons—two melee and one firearm—offering varying approaches to fend off the horrors that haunt you. This strategic element adds an extra layer of excitement and unpredictability, keeping you on your toes with every encounter.
In conclusion, Amnesia: True Subway Horror sets itself apart by blending elements from various genres—battle games, survival games, and horror games. It delivers an immersive experience that's as graphically impressive as it is hair-raising. So if you're looking for a gaming adventure that'll leave your heart pounding long after you've put down your controller, this is undoubtedly one to try out.
What are the best online games?