American Trucks Jigsaw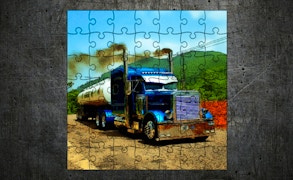 American Trucks Jigsaw
If you're searching for the perfect intersection of classic truck games and stimulating brain games, look no further than the enthralling world of American Trucks Jigsaw. This high-octane puzzle adventure offers gamers a captivating voyage into the realm of Jigsaw Puzzles, cleverly crafted around a theme that resonates with truck lovers.
In this ingenious game, you're served enticing visuals of American trucks across six images, carefully divided into three engaging play modes: easy, medium, and hard. The choice rests in your hands - whether to coast through leisurely on an easy track or to rev up your mental engine for a more challenging ride in the hard mode.
Gameplay in American Trucks Jigsaw is as immersive as it is straightforward - simply drag and drop the pieces of each puzzle, constructing an impressive montage of America's most iconic trucks. Behind this seemingly simple design lies an intricate labyrinth of brain-stimulating manoeuvres that is bound to keep gamers captivated for hours on end.
The graphic representation in this game deserves special mention, creating a lifelike atmosphere that transports you straight to the heart of America's bustling trucking scene. But it's not just about aesthetics here - with each successfully completed jigsaw puzzle, your cognitive abilities get a robust workout.
A clever fusion of exhilarating truck games and intellectually stimulating brain games, American Trucks Jigsaw will push your problem-solving skills to their limits while providing endless enjoyment. It's much more than just another free online game; it's a testament to how involving and rewarding jigsaw puzzles can truly be.
In conclusion, if you crave an immersive experience that combines truck-themed visuals with mind-bending puzzles, then don't miss out on this exceptional game. Put your helmet on, fasten your seatbelt tight – for an unforgettable ride in the world of American Trucks Jigsaw is about to begin.
What are the best online games?