Overloaded Bus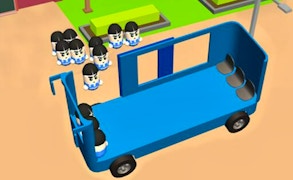 Overloaded Bus
Unleash your mental prowess with the most enthralling puzzle game of the year, Overloaded Bus. Perfectly tailor-made for kids and categorized as one of the best games for kids, this game takes a unique spin on traditional truck games by challenging the players to effectively manage a busy bus station.
In Overloaded Bus, your task is not just to chauffeur passengers around but to mastermind a strategy that ensures the bus doesn't get overloaded. It's an engaging blend of classic truck games and brain-teasing puzzles that will keep you on your toes! Press, hold and release your way through each level, carefully managing the influx and exodus of passengers without letting the bus burst due to overload.
Considering it falls under brain games, Overloaded Bus does an excellent job at training young minds to think critically under pressure. The game does not compromise on fun while posing a real challenge to strategic thinking in an entertaining environment. It promotes tactical decision-making and resource allocation in an engaging manner.
A notable aspect about Overloaded Bus is its user-friendly interface which makes it accessible for all ages. The vibrant graphics coupled with enjoyable gameplay make it stand out amongst other puzzle games. Moreover, it being a free-to-play online game adds immense value in attracting a wider audience looking for cost-effective gaming options.
In conclusion, if you're seeking an innovative twist in truck games, or simply wish to elicit some cognitive excitement from your usual catalogue of games for kids, Overloaded Bus is your perfect match. It's time to get onboard; this bus ride is sure to take you on an unforgettable journey through the fascinating world of puzzles!
What are the best online games?
TAGS