Car Crusher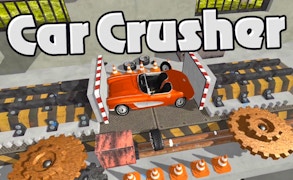 Car Crusher
If you're a die-hard fan of car games and truck games, gear up for a unique joyride with the exciting Car Crusher. This game is not just another addition to the plethora of vehicle-based games. Rather, it is a definitive blend of arcade and simulation experiences, delivering a perfect cocktail of entertainment and thrills.
In essence, Car Crusher is more than just a game; it's an immersive car-crushing simulation game, where every smash and crash are amplified by three-dimensional art animation that catapults the gameplay into unprecedented realms. The vivid 3D graphics bring each shattering metal piece to life making this game the epitome of graphic excellence in the genre of simulator games.
In Car Crusher, you're put in charge of operating massive car crushers, with the sole responsibility to obliterate every vehicle that comes your way. There's an exhilarating sense of power that overcomes you when you see cars crumble under your command, making this game stand out in the universe of truck games.
The game offers a multitude of levels, each bringing its own set of challenges that will keep your adrenaline pumping. With each successful crush operation level completed, player's return gets magnified through enticing rewards. These rewards then allow players to unlock even more vehicles to crush - a standout feature for any lovers of car games.
The engaging dynamics of Car Crusher also makes it shine in the arena of clicker games. The game demands swift responses and quicker clicks as players hustle against time to crush as many cars as possible. The thrill intensifies with every click making it an addictive gaming experience.
In conclusion, if you're on the hunt for a captivating car crushing experience combined with stunning visuals and fast-paced gameplay, Car Crusher is simply unmatched. Don't just play – feel the raw energy pulsating through one car after another as they crumble under your might!
What are the best online games?