Monster Truck High Speed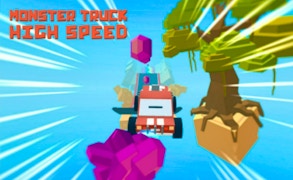 Monster Truck High Speed
Prepare to be captivated as you step into the exhilarating world of Monster Truck High Speed, a game that's pushing the limits of car games and truck games. This is not your run-of-the-mill driving game, it's a high-octane experience that has you clenching your jaws, and leaving you on the edge of your seat. It's a high-speed adventure that combines adrenaline-charged races with breathtaking drifts, sure to astound everyone!
In Monster Truck High Speed, you're given the power to commandeer monstrous vehicles, transform mundane roads into racetracks, and exert absolute dominance over the tarmac. As you push down on the virtual accelerator, you can almost feel the raw power of these mechanical beasts. The realistic engine roars and tire squeals take these driving games to another level altogether.
The magic lies in cutting through corners at heart-stopping speed only to segue seamlessly into a drift that will leave both your competitors and spectators in awe. Every drift executed in this game feels like writing poetry on asphalt; it's about flow, rhythm, control, and an exhibition of raw power under extreme precision.
The game design is spot-on too; gritty visuals accompanied by detailed textures turn an ordinary truck race into an epic saga. You find yourself being drawn in, lap after lap, race after race. The controls are intuitive too; whether this is your first time behind a steer or you are an experienced gamer looking for your next big challenge.
In conclusion,Monster Truck High Speed offers an intoxicating blend of speed and style that elevates it from other typical drift games. This is one dynamic adventure you wouldn't want to miss out! So buckle up, put on your racing gloves because Monster Truck High Speed is ready to give you a thrill of a lifetime!
What are the best online games?