Color Water Trucks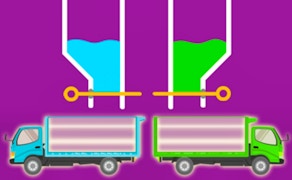 Color Water Trucks
In the dynamic world of puzzle gaming, a new contender has emerged that beautifully combines truck games, brain games, and even coloring games: Color Water Trucks. This innovative game has swiftly garnered attention for its unique approach to gaming, providing players with an addictive experience that keeps them coming back for more.
The premise of Color Water Trucks is as simple as it is ingenious. Players must use their wit and brain power to tap pins, move them strategically, and color the white water all while steering clear of the black-colored obstacles. The ultimate goal? To fill up all the colorful trucks and complete each level with mastery and finesse.
The vivid aesthetics of Color Water Trucks do not disappoint either. The game brilliantly incorporates elements of coloring games to transform what could have been a monotonous task into a visually pleasing experience. The multitude of hues dancing on your screen as you fill your trucks promise to captivate you at every turn.
This game does more than just entertain; it challenges. Labeled as one of the most engaging truck games, each level brings new twists and turns that require nimble thinking and fast reactions. From dodging black colors to managing multiple pins simultaneously, Color Water Trucks exercises your brain in the most fun way possible!
All in all, Color Water Trucks transcends traditional gaming genres by artfully merging elements from various categories to offer a novel puzzle-based experience. Its blend of addictiveness, challenge, and visual appeal makes it a worthy contender in both truck and brain games alike, promising hours upon hours of entertainment for gamers worldwide.
Keywords:
Color Water Trucks; Puzzle gaming; Truck Games; Brain Games; Coloring Games;
What are the best online games?