Monster Truck Driving Simulator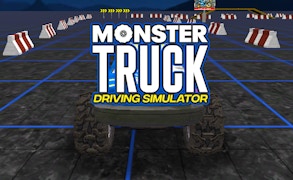 Monster Truck Driving Simulator
Power up your engine and get ready for a thrilling ride with Monster Truck Driving Simulator, a game that redefines the genre of offroad games. This isn't just another addition to the racetrack of car games, but a transformative experience that brings you the thrill and adrenaline rush of driving real monster trucks on challenging offroad tracks.
Developed by Best Free Games, this ingenious blend of truck games and simulator games gives you the chance to not only drive an astonishingly detailed monster truck but also compete in electrifying championships. The gameplay is diversified with two unique modes - drag and freestyle, allowing you to showcase your driving skills with insane jumps and audacious backflips.
Acutely realistic, heart-thumping, and intensely captivating, Monster Truck Driving Simulator stands out amongst other driving games. Its immersive physics-based controls make for an authentic offroad experience. It's not just a game; it's a wild, mind-blowing ride that puts you right behind the wheel of an incredibly powerful monster truck.
The best part? All this excitement is available for free! So if you're on the hunt for top-tier truck simulator, that delivers tangible realism, explosive action, and relentless competition – then Monster Truck Driving Simulator is unquestionably the game you've been revving your engines for. Buckle up today and take part in the exhilarating world of offroad monster truck racing!
In conclusion, Monster Truck Driving Simulator seamlessly combines exhilarating gameplay from different gaming genres to offer an unforgettable gaming experience. It certainly raises the bar higher in terms of realism and fun factor for future car games, making it a must-try for all gaming enthusiasts out there!
What are the best online games?