AirWar Plane Flight Simulator Challenge 3D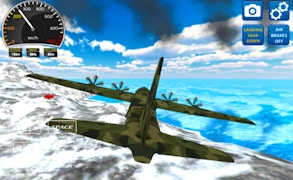 AirWar Plane Flight Simulator Challenge 3D
Prepare for takeoff, gaming aficionados, as we explore the thrill and intensity of one of the most groundbreaking airplane games in the market – AirWar Plane Flight Simulator Challenge 3D. This game doesn't just raise the bar for flying games, it soars far above it, challenging you to navigate through treacherous terrains and completing daunting missions in a C130 aircraft.
Unlike most simulator games, AirWar Plane Flight Simulator Challenge 3D truly tests your mettle as a pilot. As you defy gravity and traverse through stunning mountainous landscapes all while operating sophisticated machinery at jaw-dropping heights, this game morphs into a rare blend of driving games and flying games, delivering an unrivaled gaming experience.
The game's riveting mission-based structure is reminiscent of classic war games. Each mission presents a unique challenge that demands not only skill but also strategic thinking. It's akin to playing a game of chess amidst tempestuous winds – every move counts, every decision could mean the difference between success and failure.
Rarely do skill games offer such depth and rewarding gameplay. In AirWar Plane Flight Simulator Challenge 3D, brave pilots earn points for successful missions. These aren't handed out like candy - they are hard-earned rewards that mark your progress as a pilot in this immersive flying simulator game. This isn't just an easy glide through the sky; it's a baptism by fire where only the best will survive.
In conclusion, AirWar Plane Flight Simulator Challenge 3D isn't merely a flying simulator; it's an adrenaline-fueled journey that puts your piloting skills to the ultimate test. So strap on your helmet and prepare for one hell of ride!
What are the best online games?