Air Simulator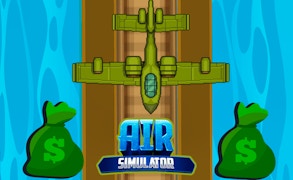 Air Simulator
Description
Immerse yourself in the exciting world of aviation with Air Simulator. This online action arcade game brings you into the cockpit of a digital airplane, testing your piloting skills across a range of scenic landscapes. The captivating graphics and fluid gaming experience makes Air Simulator an entertaining journey for all players.
How to play
To fly the aircraft, use your keyboard or joystick controls. The goal is to navigate the plane through a series of landscapes, so practice your flying maneuvers diligently. Progression in Air Simulator is achieved by successfully completing each level, thus unlocking new challenging terrain and airplanes.
Tips and Tricks
Master the basic flight controls first before attempting more complicated maneuvers. Watch out for unexpected weather updates that can affect your flight path. Use the tutorial mode provided within Air Simulator if you're new to such games - it can be incredibly helpful.
Features
Plethora of diverse landscapes to explore.
A variety of planes available for unlocking.
Challenging weather patterns add realism to gameplay.
Friendly interface suitable for both beginners and experts alike.
In-game tutorial mode provides guidance for new players.
What are the best online games?