Air Force Fight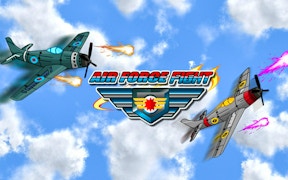 Air Force Fight
If you have a desire for thrilling airplane games or flying games, prepare yourself for a heady cocktail of action, skill, and pure adrenaline. Welcome to Air Force Fight, a game of aerial dominance that pushes both your thumbs and your tactical thinking to the limit.
This is not just another one in the long line of repetitive battle games or war games. No. Air Force Fight offers an immensely rewarding challenge, blending the intensity of classic dogfights with modern gameplay mechanics. Whether you're soaring solo or taking to the skies in thrilling 2 player game modes, each clash is a battle of wits and quick reflexes.
Dive into the 'Campaign' game mode where you'll navigate through 12 nail-biting levels. Your mission – destroy enemy air fighters while collecting coveted medals. The enemy AI is relentless, ruthless but never unfair – your skill alone determines victory or defeat.
Beyond its stellar gameplay, Air Force Fight shines in its versatility – it's more than just one of many 2 player games. You can ride solo conquering the skies on your own terms, or rope in a friend for some explosive cooperative play.
In conclusion, if you are a fan of skill games that require quick thinking and faster reactions, then get ready to strap yourself in for an action-packed experience with Air Force Fight. A game that brings the classic thrill of arcade flying games right into your hands, commanding attention with its gritty action and demanding dedication with its skill-based playing style.
What are the best online games?