Air Dogs of WW2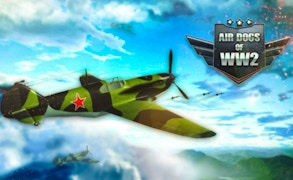 Air Dogs of WW2
If you're a fan of airplane games or simulator games, and craved for the adrenaline-pumping thrill of aerial combat, then prepare to take flight with Air Dogs of WW2. No matter what side you choose - Allies or Germans, the sky is sure to be ablaze with dogfights that will test your mettle like never before.
The game offers a realistic simulation of aerial warfare that all fans of flying games and battle games would appreciate. The objective is clear-cut: destroy the enemy base before they decimate yours within a set time limit. But don't let the simplicity fool you - the game demands strategy as much as it does skillful flying.
Air Dogs of WW2 provides an incredibly immersive experience steeped in World War II history - a treat for those keen on both action and war games. Naught but your dogfighting prowess stands between victory and defeat as both sides vie to inflict maximum damage on each other. It's not just about scoring high; it's about surviving through the brutal aerial onslaught and triumphing against all odds.
Victory aside, there's much more than meets the eye. Each warplane mirrors its real-life counterpart in performance and firepower, offering an authentic taste of wartime aviation at its most intense. In this thrilling whirlwind of action, strategy becomes your best ally. Finding weaknesses in enemy defenses, deftly maneuvering through punishing anti-aircraft fire, and maximizing every opportunity to strike – these strategies make up your roadmap to victory.
In conclusion, whether you're a seasoned veteran of simulator games, or just testing the skies in your first ever flying game, Air Dogs of WW2 delivers edge-of-the-seat excitement that will keep you coming back for more. So strap in tight, pilot - it's time to show them what you're made of!
What are the best online games?