Agent of Descend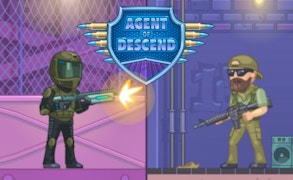 Agent of Descend
Descend into the thrilling world of the Agent of Descend, an exceptional offering in the genre of gun games, which effortlessly blends together elements from police games and gangster games. As every floor brings new enemies and fresh challenges, you'll find yourself gripped by the unrelenting action and tactical strategy that defines this impressive turn-based RPG title.
In Agent of Descend, you're not just playing a game, but steeping yourself in a narrative that demands your skill, precision, and strategic prowess. With every enemy taken out, every weapon purchased, and every skill increased, you carve your path in this heart-racing journey. This isn't the run-of-the-mill shooter – it's a testament to how engaging and challenging shooting games can be.
Apart from its gripping gameplay mechanics, what strikes with force is Agent of Descend's seamless fusion of various gaming styles. The anxiety-provoking thrill characteristic of popular police games combines with the unfiltered savageness standard to intense gangster games. It's an unusual but incredibly effective mix that keeps you coming back for more.
At its core, Agent of Descend isn't just about firing weapons; it's about calculated moves and smart upgrades. Whether it's choosing the right gear or optimizing skills - every decision counts here. It reinforces its status as one of those must-play gun games where strategy is as significant as firepower.
If you're seeking a shooting extravaganza with depths plunge into - look no further than Agent of Descend. A world where police chase is as exciting as gangster showdown awaits you. It's time for all gun game enthusiasts to experience a unique blend that this remarkable game brings - buckle up for an unforgettable ride!
In conclusion, if there were an epitome for action-packed gun games, then Agent of Descend would undoubtedly top that list. It manages to encapsulate all excellent facets from both police games and gangster games,serving up a satisfying gaming meal guaranteed to satiate your adrenaline cravings. A must-play title for all shooting game enthusiasts out there!
What are the best online games?