Ace Brawl Battle 3D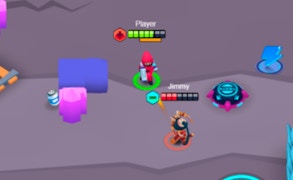 Ace Brawl Battle 3D
Immerse yourself in the futuristic world of Ace Brawl Battle 3D, a top-tier entry in the thrilling realm of shooting robot games. This mould-breaking title virtually manifests its battlefield, presenting an innovative solution for world peace, allowing you to unleash your combative spirit without the consequential real-life damages.
In this captivating creation, you are equipped with highly advanced weapons and awe-inspiring military gear, turning the tide of war in your favor within this adrenaline-pumping battle game. Engage in intense combat against formidable robotic adversaries, employing strategic prowess and brute force to achieve victory. The phrase 'survival of the fittest' is depicted vividly in every skirmish, making every win a badge of honor.
The game's stunning visuals bring you face to face with the future war zone. Its superior 3D graphics offer unsurpassed immersion, while its highly detailed environments transport you to a world where robots reign supreme. Whether it's within steel cities or desolate wastelands, every map is a battlefield waiting to be conquered.
But Ace Brawl Battle 3D isn't just about aggressive skirmishes. Skillful planning and tactical strategies are key to succeed in this fierce competition among gun games. With a myriad of weapons at your disposal, knowing when and how to use them becomes an engrossing game within itself.
In conclusion, if dystopian futures and electrifying robot wars are your cup of tea, then Ace Brawl Battle 3D beckons you. Unleash your inner warrior today and step into a world where guns blaze and robots clash.
What are the best online games?