456 Survival Squid Challenge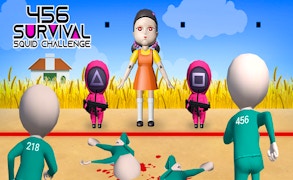 456 Survival Squid Challenge
Description
Get ready for an engaging survival quest in the game 456 Survival: Squid Challenge. As a participant, your goal is to survive through a series of high-stakes games inspired by popular TV series - Squid Game. The rules may seem simple but they are lethal. Whether you're playing Green Light, Red Light or attempting the challenging Dalgona Challenge, every step is crucial to your survival.
How to play
To play this game, follow on-screen instructions for each challenge. In Green Light, Red Light, you move during the green light and stop during the red light. In the Dalgona Challenge, carefully break the candy into different shapes without cracking it. Win the tug of war by tapping the screen at optimal moments and pick a random coin in Coin Guessing. Be careful which glass stone you step upon in the Glass Stepping Stone challenge.
Tips and Tricks
Maintain steady hand-eye coordination and presence of mind in all games to avoid elimination. Time your moves strategically in Tug of War. Trust your gut feelings in Coin Guessing, and observe closely before choosing a glass stone in Glass Stepping Stone.
Features
Variety of mini-games inspired by popular TV series.
Frequent level changes bring fresh challenges.
Lively graphics with immersive sound effects enhance gameplay experience.
A gripping survival premise that tests your skills and strategy.
The chance to become a Billionaire virtual winner.
What are the best online games?