Zombies Shooter Part 2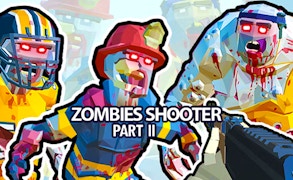 Zombies Shooter Part 2
Awaken your inner sharpshooter with the gripping Zombies Shooter Part 2, one of the most thrilling gun games to hit the gaming industry. This high-octane game merges elements from zombie games, battle games, war games, and even sniper games, offering a game experience that is an absolute must for any action game enthusiast.
In this engrossing sequel, you're transported into a horrifying new city swarming with undead horrors. From mutated firefighters spitting flames to hulking behemoths lobbing boulders, and even zombie football players darting around with astonishing speed; this game takes zombie variety to an unprecedented level. Each foe delivers a distinctive challenge that will keep you on your toes.
The game doesn't just rank among the best monster games; it also stands shoulder-to-shoulder with top-tier survival games. Indeed, every gunshot counts in this ruthless city, where even leg-shot zombies can drag themselves clawing and gnashing towards you. Your task? Free this city from its gruesome fate.
This game's enthralling arsenal is what truly puts it on the map among other gun games. Watch as your enemies splinter into pieces with a satisfying burst under your unrelenting barrage of bullets.
Zombies Shooter Part 2 is more than just another entry in the zombie genre; it is an adrenaline-fueled journey of survival that will test your skills like never before. Fire up your consoles and get ready to reclaim the city...one bullet at a time.
What are the best online games?