Zombie Sniper Game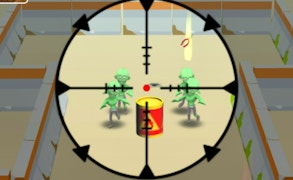 Zombie Sniper Game
The Zombie Sniper Game, a standout amongst the latest landmark entries in the world of zombie games, is an adrenaline-pumping, heart-stopping foray into a post-apocalyptic nightmare. With an emphasis on survival and action, this game will take you on a thrilling journey through a realm dominated by the undead.
As you navigate this dystopian landscape, every decision is life or death. Humanity is dwindling and it's your mission to stand against the tide of zombies. This isn't just about survival; it's about reclaiming our world from the clutches of the undead.
One can't ignore mentioning that this game beautifully mingles fearful elements of zombie games with the precision requirements of sniper games. The player, the protagonist, isn't just another aimless survivor; he's a beacon of hope, a sharpshooter with one goal: annihilating zombies.
With an array of innovative gameplay mechanics, Zombie Sniper Game goes beyond the realm of conventional gun games. The weapons are not merely tools for survival but extensions of the player themselves. From handguns to high-powered rifles, each gun boasts its unique attributes that require strategy in their employment against relentless zombie hordes.
The game's attention to detail is stunningly immersive: each bullet you fire resonates with chilling intensity, and each zombie you drop feels like a victory for humankind. The graphics are top-notch, marrying realism with pure entertainment flawlessly.
The Zombie Sniper Game is more than just another entry into the saturated market of gun games. It's hauntingly beautiful, relentlessly challenging and breathtakingly suspenseful. The thrill of hunting down zombies coupled with strategic gameplay elements makes it a must-play for any fan of sniper games.
In conclusion, Zombie Sniper Game encapsulates what makes zombie games, gun games, and sniper games, so compelling to play - tense moments, strategic gameplay and unrelenting horror - making it an absolute tour-de-force in its genre.
What are the best online games?