Zombie Shooter: Destroy All Zombies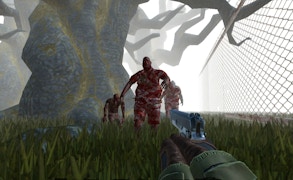 Zombie Shooter: Destroy All Zombies
If you're searching for an adrenaline-filled thrill ride, look no further than the exhilarating world of Zombie Shooter: Destroy All Zombies. This epic gun game deploys you right in the heart of a zombie-gripped forest, where it's kill or be killed. This unparalleled gem in the genre of zombie games immerses you into a nerve-wracking survival battle; a testament to its status as one of the top-tier horror games right now.
Your virtual hand hovers over an astounding range - from pistols to grenade launchers, not forgetting that trusty shotgun and high-precision sniper rifle. Such an array of devastating weapons never fails to deliver that satisfying feel-good factor as you take out wave after wave of gruesome zombies. Every pull of the trigger makes this game stand out among other sniper games.
In Zombie Shooter: Destroy All Zombies, every inch of its haunting locale is a battle zone, pulsating with danger and dread. It's in this deathly silence where your survival instincts truly come alive. As each moment turns into a frenzied fight for survival, it's clear that this game has taken battle games to a whole new level.
This masterfully crafted game holds nothing back when it comes to serving up the scare factor. Ghastly enemies lunge at you from every angle making this not just one among many scary games, but an experience that insidiously creeps under your skin leaving you with chills long after you've put down your controller.
The premise is simple: protect the world and destroy all zombies! But what sets it apart is its ability to captivate you and keep your heart racing until the very end. If you're searching for gun games with high stakes, relentless action, set in a nerve-racking horror backdrop – Zombie Shooter: Destroy All Zombies is your perfect match! Dive headfirst into one of 2022's premier survival games today!
What are the best online games?