Zombie Shooter 3D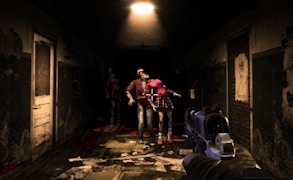 Zombie Shooter 3D
Engage in a blood-thrilling, adrenalin-pumping experience with Zombie Shooter 3D, an illustrious addition to the action-packed domain of shooting games. Encompassed by a horde of ravenous, dead-eyed zombies, your sole purpose is survival - no plot twists, no side quests, just raw, undiluted action.
In this dire arena of zombie games, Zombie Shooter 3D truly stands out with its commendable 3-dimensional graphics and meticulous attention to detail. The gut-wrenching visual stages are supplemented by an exhaustive arsenal of weapons, underscoring its prowess in the realm of gun games.
The thrill of blowing up rotting flesh and the satisfaction as your bullet pierces through multiple undead skulls is truly unparalleled. This game has elevated the bar for future zombie shooter games with its remarkably intuitive controls and immersive game world.
This isn't just a brainless shooting spree; this game will test your mettle like never before. Whether it's skillfully dodging incoming projectiles or maintaining a cool head while being surrounded by gnashing teeth and flailing limbs - every performance impacts your survival rate.
From semi-auto rifles to heavy duty grenade launchers, Zombie Shooter 3D has got you covered. Satisfy your trigger-happy urges in one of the most captivating gun games on the market. Each weapon provides its unique feel and finesse, forcing gamers to adapt their shooting style drastically.
In conclusion - if you're a fan of gun-toting action and unrelenting waves of undead enemies, then Zombie Shooter 3D is just for you. Its blend of heart-poundingly intense fights and smooth gunplay mechanics makes it standout among other zombie games.
What are the best online games?