Zombie Shoot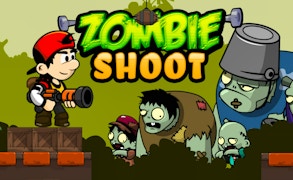 Zombie Shoot
Immerse yourself in the thrilling world of Zombie Shoot, one of the most intense zombie games to have graced the realm of gun games. Roped with elements that test both your instinct and strategy-making skills, Zombie Shoot is a formidable contender in the domain of skill games that keeps your adrenaline pumping at all times.
Visualise this - The screen lights up with zombies lurking in different, unpredictable locations. Our hero stands, fearless and armed with a bazooka. Your mission? To take aim and fire, ensuring that the shells land perilously close to these undead enemies. The thrill isn't just about pulling the trigger; it's about patiently waiting for the perfect moment when the shells explode and annihilate your foes.
What sets Zombie Shoot apart from other similar zombie games is its tactical approach. You aren't merely unloading rounds towards indistinct targets. Instead, you need to consider the trajectory of each shell's flight, strategize how they can rebound off objects, and use this knowledge to eliminate some especially tricky enemies hiding in hard-to-reach places.
This aspect adds a whole new level of depth to this gun game, making it more than just a mindless shooting spree. You are pushed to think on your feet and adapt as you navigate your way through complex situations - making it one of the most engaging skill games out there.
In conclusion, if you're on the lookout for something that seamlessly blends action-packed sequences with brain-racking strategy, then Zombie Shoot should undoubtedly be on your must-play list. It's a game that excites, engages and challenges you in ways that few others can hope to achieve.
What are the best online games?