Zombie Last Castle 3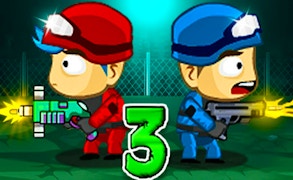 Zombie Last Castle 3
Step into the thrilling world of Zombie Last Castle 3, a realm teeming with undead terrors and intense battle action. This game soars to new heights in the gaming universe as it gives a fresh twist to the classic genres of zombie games, and gun games
.
Lose yourself in wave after wave of relentless zombie onslaughts; each one more potent than the last. This standout jewel amongst other battle games raises the stakes with increased difficulty levels, making you yearn for more as it pushes you to your limits. The single player mode is a test of your survival skills, keeping you on edge as medic characters run rampant across your domain offering crucial support.
Multitasking takes center stage in this breath-taking survival game. You'll need to dodge death-dealing zombies while simultaneously protecting your valuable allies. Maintaining balance becomes even more critical to securing success in this high-stakes contest.
The true brilliance of Zombie Last Castle 3 lies in its multiplayer modes. As one of the most engrossing 2 player games, it shifts gears from merely surviving to collaboratively conquering the undead hordes. And if 2 player mode isn't challenging enough, dare to try out the 3 player variant for an adrenaline-pumping experience.
The game adds a unique touch with its innovative spider web defense system, giving players an essential tool for turning the tide against their flesh-eating foes. Battle ten vicious waves and claim ultimate victory in this all-consuming test of endurance.
Zombie Last Castle 3 isn't just another game - it's a mesmerizing journey that challenges your strategic thinking, tests your combat skills, and immerses you into an eerie yet fascinating world where only the fittest survive. Unleash your warrior spirit and dominate the battlefield!
What are the best online games?