Zombie Last Castle 2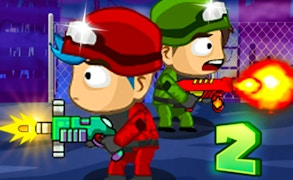 Zombie Last Castle 2
Dive into a post-apocalyptic world swarming with the undead in the thrilling sequel, Zombie Last Castle 2. This action-packed entrant in the genre of zombie games boasts elements of battle games and gun games, creating a white-knuckle gaming experience for fans of survival games.
In Zombie Last Castle 2, the undead hordes are back - bigger, stronger and hungrier. The stakes are high and survival is nigh impossible. The zombies grow tougher with each wave, demanding robust strategies and quick reflexes from players.
A unique feature that sets this game apart in the realm of 2 player games is its multi-player mode. Now, instead of braving the apocalypse alone, forge ahead with up to two comrades-in-arms. Whether you go solo or form a team, your mission remains crystal clear - keep the ghoulish invaders at bay.
The iconic weaponry system returns from the first game: guns blazing, turret towers primed and mines set for a fiery explosion. New to this sequel is a shield mechanic as well as bonus drops that can turn the tide of an otherwise dire situation. Mastering these tools is imperative if you plan on surviving through all ten heart-stopping waves.
Zombie Last Castle 2, blurs the line between zombie survival horror and intense war-battle gameplay. Gritty visuals, adrenaline-pumping action sequences, and an indomitable enemy make this an unforgettable gaming experience. Whether you're a staunch single-player or thrive on team dynamics in multiplayer settings, Zombie Last Castle 2 is set to satisfy your cravings for combative entertainment.
In conclusion, for gamers hunting for a captivating blend of zombies, battles, guns and survival in one nerve-racking package, look no further than Zombie Last Castle 2.
What are the best online games?