Zombie Catcher Online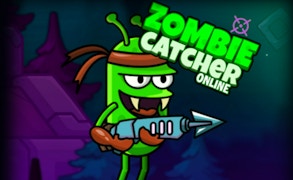 Zombie Catcher Online
Immerse yourself in the fast-paced and thrill-filled world of Zombie Catcher Online, a standout addition in the genre of action games, combining elements of zombie games, gun games, and monster games. Here at GameReview Central, we've had our fair share of fierce battles against brain-eating ghouls, but trust us when we say - Zombie Catcher Online will challenge you like no other.
In Zombie Catcher Online, you'll join forces with an intrepid little alien tasked with rounding up hordes of zombies who've made their daring escape from a high-security lab. The game cunningly integrates components from some of the best hunting games out there while adding its unique touch.
The game's distinct narrative revolves around hunting down these terrifying creatures across multiple worlds using nothing but your weapon, jetpack, and intellect. It's a nail-biting chase that calls for quick thinking and faster reflexes; hesitate for even a second, and these zombies will vanish beyond your gun range.
Collecting coins along your journey fuels one of the game's most compelling features- skill upgrades. As a paramount skill game, Zombie Catcher Online offers speed boosts, jetpack enhancements and power-packed weapons, essential for hunting down special zombies and fearsome monsters.
Hailed as one of the most exciting zombie games, gun games, and monster games on the online platform, Zombie Catcher Online is sure to provide hours filled with riveting gameplay. So brace yourself for an unforgettable adventure into zombie-infested territories where success depends on your hunting prowess!
What are the best online games?