Xtreme Bottle Shoot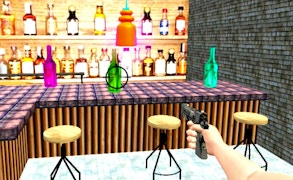 Xtreme Bottle Shoot
If you're a fan of engaging gun games, skill games, or precise sniper games, then set your sights on the riveting experience of Xtreme Bottle Shoot.
Xtreme Bottle Shoot is much more than a simple shooting game. Designed to challenge players and improve your shooting skills, this game sets a new benchmark in the realm of bottle shoot games. It requires not just random shooting, but careful aim and calculated shots - making it a definitive must-try for any avid gamer.
In this high stakes environment, you must master various challenges – broken bottles with bullets or stones, all within given time periods. The various environments provided within the game increase its complexity, demanding both your strategic acumen and raw marksmanship. Each bottle blast, backed by realistic sound effects, amplifies the thrill of this uniquely engaging shooter simulation.
The rules are deceptively simple: swipe on the screen to aim the target and click on the shooting button to blast the bottle. But make no mistake - this is no walk in the park! Xtreme Bottle Shoot pushes you to perform better with each level, challenging you to become a true bottle shooter expert master. Packed with stunning 3D effects for a realistic environment, it offers a gaming experience second to none.
Whether it's about testing your accuracy or pushing yourself to hit increasingly difficult targets under pressure, Xtreme Bottle Shoot excels as an addictive, fun, and remarkably attractiveshooter game. This is not just 'another' 3D shooting game; it feels more like stepping into an action movie where every bullet you fire adds up to paint an exhilarating picture of precision-based entertainment.
Put simply; Xtreme Bottle Shoot stands tall as one of those definitive shooting skill games that every ardent gamer must have in their collection.
What are the best online games?