Wow Girl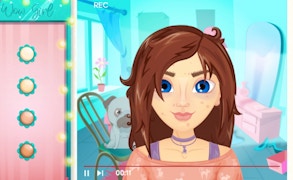 Wow Girl
Step into a world of glitter and glamour with Wow Girl, a delightful spin on the traditional games for girls. This game revolves around all things pink, pretty, and perfect. From applying chic makeup to experimenting with fabulous hairstyles, Wow Girl offers a vibrant blend of makeup games, hairdresser games, and fashion games.
The premise? You're a beauty-blogger shooting your very own makeup tutorial. The goal is to rake in those likes and reach for social media stardom. It's not just about the makeover, it's about the journey!
The graphics in Wow Girl are truly delightful. Each animated design sings with creativity, bringing bright pops of color to your screen. The sound design is equally satisfying—gentle melodies provide soothing background noise as you navigate through different makeovers.
Wow Girl's gameplay contributes to its charm. With just a swipe of your finger, you can apply glamorous eyeshadow or curl some luscious locks. Its intuitive controls make it both a fantastic game for beginners trying their hands at fashion games as well as seasoned players seeking something fresh!
The true brilliance of Wow Girl lies in its ability to be more than just another pretty plaything—it's an engaging, immersive journey into a beautified world. Each virtual step taken in this game propels players into the next fascinating phase of styling.
In summary, if you're searching for games for girls, look no further. With its adorable graphics, soothing sounds and interactive gameplay, Wow Girl will satisfy any young fashionista's thirst for beauty and creativity!
What are the best online games?