World Craft HD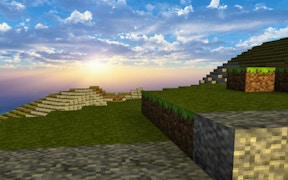 World Craft HD
Immerse yourself in the multifaceted pixelated block-building universe of the latest offering in Adventure Games; World Craft HD. It's a scintillating addition to the Minecraft Games arena, and sits comfortably in the top tier of block games.
The game's primary attraction lies in its epic Open World gameplay, where the vast landscapes are your canvas, and pixelated blocks your brush. Whether crafting intricate gardens or colossal cities, World Craft HD successfully integrates the elements of popular city building and pixel games, rendering it an absolute delight for fans of both genres.
The updated textures and environments invigorate new adventures with your friends, allowing you to stretch your creative muscles and build masterpieces together. The quality graphics are a significant upgrade compared to other block games; each cube is crafted meticulously, ensuring a visually stunning experience.
A key element that sets this game apart is its introduction of spectacularly designed new worlds. With each world comes an array of new textures, further enhancing the depth and richness of World Craft HD. The visuals are amplified by the use of 'Sun Light'. This feature not only aesthetically beautifies your creations but also adds a realistic touch to the overall gaming environment.
World Craft HD offers an exciting opportunity to exhibit your crafting skills across unique and diverse landscapes. As you traverse these new worlds crafting cubes into cities or gardens, every session morphs into a riveting journey. The feature of building your house gives a personalized touch to the gameplay, making it more immersive.
In conclusion, if you're seeking an adventurous escape into the realm of block games or if you're an ardent fan of city building games with a twist, then World Craft HD is definitely worth checking out.
Tags: Adventure Games, Block Games, Pixel Games, Minecraft Games, Building Games, City Building Games, Open World Games.
What are the best online games?