Wizard School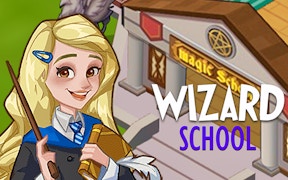 Wizard School
Wizard School leaps onto the scene as the latest addition to the exciting world of strategy games. With its unique blend of building games, management games, and idle games, it offers players an enchanting twist on the genre that's proving highly addictive.
In this enchanting game, you are invited to step into a role often reserved for the chosen few - the headmaster of a wizard school. The premise of Wizard School is instantly captivating; in a world where some children are borne with magical powers, your task is to build and manage a school that specializes in teaching them how to control these powers. You're not just building ordinary classrooms or hiring average teachers; you're creating spellbinding spaces and recruiting magical mentors - all against an immersive backdrop of mystical landscapes.
But where Wizard School truly excels is in its seamless combination of different game elements. Merging aspects from building games with those from management games, you'll find yourself constructing magical structures one minute and managing resources or allocating tasks the next. And with its idle game features, your wizarding world continues to thrive even when you're away.
This game is perfect for gamers who love strategy, crave creativity, and have an affinity for fantasy-themed adventures. It offers depth in gameplay and story without overwhelming players with too much complexity. Whether you're an experienced gamer looking for your next challenge, or a newbie seeking an inviting entry into the world of strategy gaming, Wizard School undoubtedly provides an enjoyable and captivating experience.
If you're ready to don your robe, grab your wand, and enter the charmingly chaotic world of Wizard School, it's time to start casting some spells. Get ready for magic boot camp!
What are the best online games?