Will Hero Online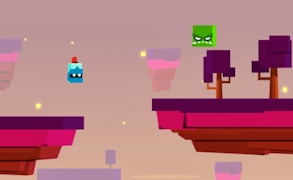 Will Hero Online
Step into the adrenaline-fueled world of Will Hero Online, an action-packed entrant in the realm of pixelated monster games. This is not your everyday, run-off-the-mill action game. Oh no, it's an intoxicating blend of skill games and battle games, all wrapped up in a nostalgia-inducing pixel package.
The premise is simple and invitingly compelling - you have one control to jump, dash, and wield a plethora of weapons against a horde of monsters. Yet, mastering it requires talent, daring maneuvers, and above all, impeccable timing. It's an addictive cascade of fast-paced action where agile reflexes are your most potent weapon against the onslaught.
But don't be fooled by its seemingly straightforward approach. Beneath the surface rumbles a monstrous heart that thrives on skill-based battles. Every hundredth of a second counts in this game as you dance on the razor's edge between glory and doom. This is what separates Will Hero Online from other typical pixel games. It celebrates the joyous chaos of battle while simultaneously demanding unerring precision from its players.
You're not just battling for survival but also for style with an array of cool costumes to collect for your hero. Scaling your score to dizzying heights might be your primary goal, but doing so while looking like a pixel-art behemoth is an enticing bonus.
In conclusion, Will Hero Online is a wild action ride from start to finish with enough hooks to keep you coming back for more. If you've been seeking an energetic fusion of monster slaying joy and ruthless skill challenges wrapped in classic pixel-art aesthetics, your search ends here.
What are the best online games?