Wild Wolves Hunger Attack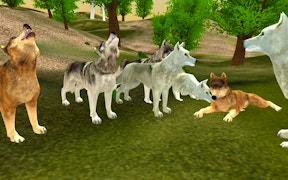 Wild Wolves Hunger Attack
Immerse yourself in the dynamic world of Wild Wolves Hunger Attack, an action-packed animal game that combines the thrill of running games with the strategic depth of battle and simulator games. This game is a standout gem in its niche and promises to satiate your primal gaming desires.
To be a part of the wolf pack, prowling through multiple terrains, using cunning and brute force to survive, nothing could be more exciting. The game's multiple levels offer escalating challenges and varied interfaces that test your survival skills at each step.
As a part of animal games, Wild Wolves Hunger Attack elevates the genre to new heights. You're not just playing a game; you're living the life of a wild wolf, chasing prey, defending against predators, and fighting for your place in the pack in this thrilling battle game. The running elements keep you on your toes as you navigate through diverse landscapes.
The game does not cut corners when it comes to visuals either. With crisp and clear images, good graphics give you an authentic feel of the wild. Nature lovers can revel in lifelike environments while they charge through denizens of flora and fauna.
Simulator games fans will appreciate the realistic facets that make up wolf life - hunting, feeding, defending territory and leading your pack - creating an immersive experience that is hard to shake off even after hours of play.
In conclusion, Wild Wolves Hunger Attack masterfully blends elements from various genres to deliver a compelling gaming experience. Come for the animal games appeal but stay for the thrilling blend of running sequences, tactical battles, and high-quality simulation.
What are the best online games?