Where is the Water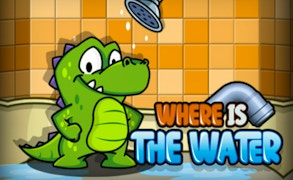 Where is the Water
Engaging the primal spirit, 'Where is the Water' beautifully marries the worlds of dinosaur games, clicker games, tap games, and mining games in an extraordinary adventure. This game bravely pioneers through undulating terrains whilst ticking all the right boxes for dinosaur enthusiasts, casual gamers, and master puzzlers alike.
The goal: feed a thirsty crocodile by navigating through complex piping systems, offering a fresh perspective in the familiar world of tap games. As players progress through more than 20 awe-inspiring levels, they're challenged not only to be swift clickers but also intuitive problem solvers. This game compels players to look beyond the obvious and arrange puzzle pipes ingeniously, providing an unmatched thrill in the genre of puzzle games.
The user's interaction with the terrain is a nod to mining games - you don't just move in it; rather you sculpt and shape it to your advantage. Further heightening your gaming experience are sporadically placed stars waiting to be collected. Each star gained transforms into an energizing dopamine hit, keeping you hooked.
The game 'Where is the Water' successfully leaps over cookie-cutter stereotypes of tap and clicker games. Instead, it thrusts players into a buoyant escapade filled with adventurous puzzles infused with dinosaur themes, making it one of the finest additions to an ever-expanding ocean of clicker and mining games.
A ground-breaking marvel in dinosaur gaming that excites your senses, tests your speed, challenges your wit while quenching your thirst for adventure! So strap on your thinking caps and immerse yourself in this thrilling game where time zips as you figure – Where indeed, is the water?
.
What are the best online games?