Watermelon Shooter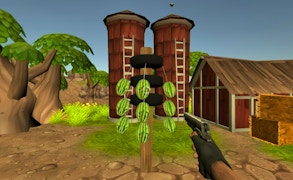 Watermelon Shooter
If the idea of fusing your love for shooting and skill games sounds tempting, then the innovative title, Watermelon Shooter, should undoubtedly sit atop of your must-play list. As an adventurous blend of thrilling gun games and brain-teasing skill games, Watermelon Shooter presents a concoction that seamlessly merges excitement and strategy in a fun-packed gameplay setting.
Right from the first round, Watermelon Shooter piques your interest with its multiple levels that offer varying degrees of difficulty. Whether you're a casual gamer seeking light-hearted fun or a hardcore enthusiast looking for an adrenaline rush, these levels adapt to fit your fantasy. Each stage thrusts you into uniquely challenging situations that test your precision and decision-making skills in equal parts.
The hook of Watermelon Shooter, however, is its captivating gameplay. Coupled with accurately designed gun mechanics, it takes you beyond the conventional shooting games. The game cleverly uses watermelons as targets, adding an intriguing spin to the commonplace shooting objective. Equipped with an arsenal of diverse guns to choose from, players can strategize their aim and shoot down watermelons while testing their sharpshooting skills.
In conclusion, Watermelon Shooter is a refreshing twist on traditional gun games. The blend of strategic gameplay turns it into one of the best skill-based offerings in its genre. Moreover, with its easily adaptable difficulty levels and a plethoraurous array of guns to shoot from, this title can appeal to both beginner level players and advanced gamers alike.
If you've been searching for a new gaming thrill that tests your dexterity while providing electrifying fun, look no further than Watermelon Shooter - where every shot counts!
What are the best online games?
Tags