Water Hero Shoot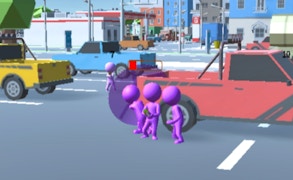 Water Hero Shoot
Immerse yourself in the exhilarating world of Water Hero Shoot, an action-packed game waiting to captivate your senses. Classifying it merely as one of those common clicker games would be a catastrophic understatement. This game bridges the gap between ordinary and extraordinary, promising to deliver an immersive gaming experience that is anything but bland.
In the pantheon of stickman games, Water Hero Shoot stands as a towering titan, amalgamating intuitive gameplay with captivating visuals. Its charm lies in its simplicity. With just one click, you transform into a valiant hero, shooting your enemies and tinting them with color. Each triumphant hit adds to your team's strength, further empowering you in this thrilling journey.
The game brilliantly intertwines elements from traditional gun games and enhances them with its unique mechanics and design. Every bullet is much more than just a weapon; it's a paintbrush, painting your victory on the canvas of this vibrant battleground. Much like an artist creating his masterpiece, your clicks are your strokes that can lead you to dizzying heights.
The addictiveness of Water Hero Shoot is comparable to the nostalgic charm of stickman games past - but don't let its hyper-casual design mislead you. This game challenges your skills and demands precision - each click, each shot must be carefully calculated to ensure maximum damage.
In conclusion, Water Hero Shoot delivers on all fronts: epic action, engaging gameplay, riveting visuals and much more. It successfully brings the best elements from clicker games, stickman games, and gun games together into one comprehensive package that's sure to keep gamers hooked for hours on end.
If you're thirsting for a mix of adrenaline-packed action and strategic gameplay then look no further - Water Hero Shoot is here to quench your gaming desires!
What are the best online games?