Warzone Getaway 2020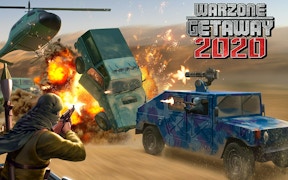 Warzone Getaway 2020
If you're a fan of unyielding war games, intense gun games or relentless sniper games, then look no further than the ultimate shooting experience that is Warzone Getaway 2020. This game offers more adrenaline and thrills than a high-speed chase in your favorite car games or motorcycle games.
Built on the sturdy HTML5 platform, Warzone Getaway 2020 stands at the apex of captivating and engaging shooting action. You're tasked with defending your jeep from an onslaught of enemies, a task that grows more challenging and exciting with each passing wave. The developers have enhanced this gun-on-wheels experience by integrating strategic elements - upgrading your guns, turrets, and stocking up on useful grenades.
This game is not just any ordinary war game where you go guns blazing; it's a strategy-filled ride requiring tactical acumen. Alongside its arsenals, Warzone Getaway 2020 offers the unexpected surprise of calling in air support. This feature lends an authentic war-zone feel to the game, making it stand out among other sniper games.
The game also incorporates a rewarding XP system designed to keep you hooked. By accumulating these points, you can unlock special attacks. There are five such attacks waiting for you behind this exciting XP wall! To gamers who relish the thrill of accomplishment - this XP-fueled progression system ensures that every enemy defeated is a step towards unlocking something extraordinary.
In conclusion, if you're seeking an unforgettable shooting experience blended with tactical warfare elements — Warzone Getaway 2020, among all gun games and war games out there, is your go-to choice!
What are the best online games?