War Simulator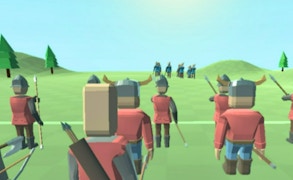 War Simulator
War evokes thoughts of destruction, carnage, and significance which is why it's the subject of many movies and games like War Simulator. Another aspect of war is that it can be unpredictable and you never know how it's going to go until it actually happens. There are people who spend their whole lives running simulations of battle just to find the right strategy to both ensure victory and the least amount of losses. This game definitely gives you an idea of what it's like to simulate war scenarios as you get a feel for strategy and try to carve a way to victory.
About War Simulator
It could be said that the simulator genre was first started with SimCity and followed closely by the Sims. Since then, the concept of a game where you act as a manager, coordinator, or strategist while the in-game characters act on their own has grown significantly. War games have become popular in this genre since it's like playing with miniatures on a grand scale. You can spam as many units as you want to try and overwhelm your enemy or be more strategic in defeating them with fewer numbers. It's up to you to determine your parameters for an absolute win.
How to Play
War Simulator is a 3D strategy game that you control with the mouse. Each battle presents a UI screen where the enemy is color-coded at the top and your own forces are color-coded red at the bottom. To the left of the screen are your available units and a map showing the arrangement of the currently positioned forces. To place units, select the related icon on the left and then click an open space on the highlighted deployment area. You can place as many units as you have space and resources.

When you're done placing them, you can click the bottom in the bottom right to start the battle. This will cause both armies to advance on each other and they'll automatically attack the closest target once they get in range. Each unit's health is denoted by a small red health bar that appears above their heads. The battle ends when either all the enemy units fall or your own. If you lose, you can try again and if you win, you can advance to the next battle.
Tips and Tricks
Since your soldiers will do all the fighting, it's up to you to strategize their organization. You have a limited amount of space which means you only have so many resources to make a balanced force. You should have a strong and resilient frontline supported by a force of ranged attackers.

Game Details
Developer: Jul Games, Freeze Nova
Platforms: Web Browser (PC and mobile)
Languages: English
Gameplay Footage
FAQs
Is War Simulator realistic?
Even though the game does cover a lot of the main aspects of elements of warfare, it's a simpler look at a much more complex event. If realism is what you're after, Arma 3 is recommended.

Games similar to War Simulator
As you can probably guess based on the title and the content, this game can be found in the Action and War Games categories on Game Pix. Other such games include Call of Tanks, Trap Craft, State io, and Fractal Combat X.
What are the best online games?