Wall Painter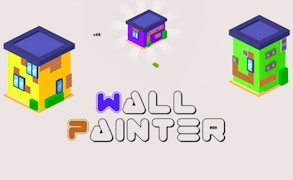 Wall Painter
Description
In Wall Painter, take on the role of a talented artist tasked with coloring every inch of various buildings. This hyper-casual puzzle game requires precision, strategy, and creativity. With every level, the structures become more complex, raising the stakes higher. Will you be able to completely transform these walls without missing a spot?
How to play
To play Wall Painter, simply use your mouse or finger to guide the brush along the walls of the building. The goal is to paint all the wall spaces in each level to progress. Carefully plan your path to ensure no spots are left unpainted. Remember, as you advance, the puzzle gets more intricate and challenging.
Tips and Tricks
Rushing may cause you to miss areas, so take your time and be methodical. Look ahead at the layout before starting, planning your route for maximum efficiency. Remember that in Wall Painter, strategy is just as important as creativity.
Features
Engaging puzzles: The game's puzzles become increasingly elaborate with each level.
User-friendly interface: Its simple controls make it suitable for players of all ages.
Creative freedom: Paint buildings in a variety of different colors for unique results every time.
Progress-based gameplay: The more you play, the more challenging levels you will unlock.
What are the best online games?