Vikings Royal Battle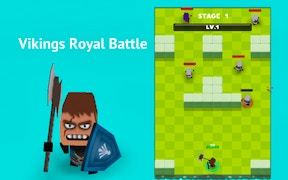 Vikings Royal Battle
Unleash the Norse within you in the action-packed Vikings Royal Battle, one of the most nail-biting sword games on the market. Be it on land or sea, this invigorating game elevates your adrenaline rush to an all-time high. From swinging axes and brandishing shields to orchestrating strategic naval attacks - your Viking journey is nothing short of exhilarating.
Dive into the heart of battle royale games, and experience survival with a twist. As a proud Viking, you'll face mighty foes at every turn, with each level presenting a new frontier of threats. Unleash your fury as you cut down enemies in your path with vigorous determination and valor.
In this high-stakes world of survival games, every choice matters. Your fate hangs by the sword's edge; each level-up offers three potent abilities to choose from, adding a thrilling layer of depth to battles. Mastering these skills is a game within a game itself - making Vikings Royal Battle an undeniably addictive addition to the pantheon of skill games.
With axes in hand and shields at ready - stay swift, strike hard, and conquer in Vikings Royal Battle - where survival is just the beginning. Whether you're into battle games or intrigued by historical warfare, this Viking voyage will redefine your gaming experience, making every moment in battle feel like Ragnarok's eve.
Vikings Royal Battle, amidst its plethora of sword-fighting action and arduous survival trials, stands out as an unmissable journey for fans craving dynamic challenge within their battle royale games.
What are the best online games?