Venom Zombie Shooter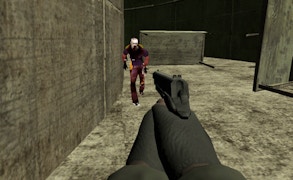 Venom Zombie Shooter
Immerse yourself in a thrilling post-apocalyptic world with the gripping gun game, Venom Zombie Shooter. This isn't just another entrant in the crowded market of zombie games, it redefines the genre with its riveting gameplay and impressive graphics. The multiple missions keep the plot thick and engaging, making it an addictive must-play for all shooting game enthusiasts.
As soon as you launch Venom Zombie Shooter, you're thrust into a world teetering on the brink of chaos. With each level, your sole objective is to survive swarms of relentless zombies using nothing but pure skill and a diverse arsenal of weapons. The game's missions are not just about mindless shooting; they demand strategy, quick reflexes and resource management.
The stunning graphics in Venom Zombie Shooter take this gun game to another level. From the grotesque design of the undead to the intricate details of post-apocalyptic environments, everything is rendered with startling realism. The visual spectacle amplifies the adrenaline-rushing excitement that comes from mowing down hordes of zombies.
The combination of tactical combat and visually pleasing graphics make Venom Zombie Shooter stand tall among other zombie games. Its robust gameplay provides an imposing challenge that will captivate both seasoned gamers and newcomers alike, inviting them into an immersive world where every shot counts. From intense action sequences to nerve-wracking boss fights, this stellar gun game consistently delivers moments that will keep your pulse racing.
If you've been on the hunt for engaging zombie games or adrenaline-pumping gun games, prepare for some sleepless nights with Venom Zombie Shooter. This game offers more than just a simple shooter experience - it's a thrilling journey into a post-apocalyptic world where survival hinges on quick thinking and accurate shooting.
What are the best online games?