Vegas Crime City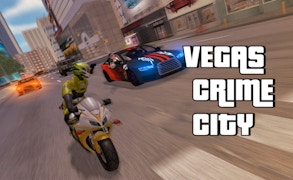 Vegas Crime City
Step into the world of lawlessness and chaos with Vegas Crime City, a game that perfectly blends the thrill of driving games, the rush of gun games, and the raw edginess of gangster games. This engaging title is a must-play for anyone seeking a high-octane gaming experience straight from the underbelly of crime-infested streets.
Set in the gritty world reminiscent of San Andreas, Vegas Crime City offers a realistic simulation that's just as audacious as Grand Theft Auto (GTA). The game stands out amongst other driving games by offering an immersive narrative laden with intense, dramatic moments. Buckle up for a wild ride through the bustling lanes of the infamous Vegas crime town.
As a player, you're not merely an observer; you're an active participant steeped deep within the city's criminal underworld. The game throws you into the shoes of a gangster. But it's not all about outrunning cop cars and pulling heists, there's a rich array of missions to keep you engaged and on your toes.
One essential aspect that sets Vegas Crime City apart from traditional gun games is its dynamic environment. Every corner of this sin city bustles with life, offering an engaging backdrop to your criminal escapades. The city's layout poses challenges and opportunities alike, making every mission thrillingly unpredictable.
In conclusion, Vegas Crime City is more than just another title in the sea of gangster games. It offers players a captivating blend of adrenaline-fueled driving experiences, exhilarating firearm combat scenarios, along with an intriguing storyline planted deep in the heartland of crime-riddled Vegas. Quite simply, it is your express ticket to experiencing life on the wrong side of the law!
What are the best online games?