Vegas Clash 3D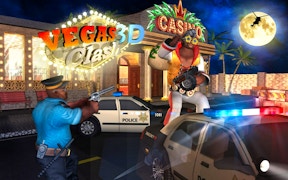 Vegas Clash 3D
Step into the world of Vegas Clash 3D, where the stakes are high and the thrill is unmatched. This adrenaline-fueled addition to online gun games and battle royale games throws you in the heart of a pulsating Las Vegas casino filled to the brim with cold, hard cash. The allure is irresistible, so grab your gear, rally your Sassy Elvis gang, and execute the heist of the century.
Like in all classic gangster games, Vegas Clash 3D isn't just about flashy outfits and scheming plots. It cleverly infuses elements of survival games, betting on your quick wit and sharpshooting skills to make it out alive. But beware! The casino owners aren't as clueless as they seem, they've called in reinforcements. In this intense mashup of battle games and police games, you'll be facing off against formidable law enforcement officers determined to safeguard private property.
In a twist reminiscent of popular games like Fortnite, Vegas Clash 3D offers a rewarding character leveling system that spices up every gaming session. Earn those stars, grow stronger, and pave your way to continuous victories. Unearth that beastly revolver hidden in the backstreets and let it do the talking for you. And if you're one for aesthetics, keep playing, keep fighting till your weapons gleam with golden skins.
In conclusion, if you're seeking an immersive experience in the world of sniper games, where every decision counts and survival is king, then Vegas Clash 3D is your ultimate playground.
What are the best online games?