Vampire Survival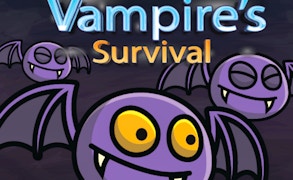 Vampire Survival
Description
In the gripping multiplayer game Vampire Survival, you step into the mythical world of vampires battling against monstrous enemies. This high-intensity survival game lets you experience the blood-curdling life of a vampire, where your sole aim is to stay alive by vanquishing the hunters. The captivating gameplay involves upgrading your vampiric abilities and accumulating wealth to outmaneuver your opponents.
How to Play
Playing Vampire Survival is quite straightforward. To control the vampire, use the keyboard arrows or WASD keys for movement, space bar for flight, and mouse click for attack. The more enemies you destroy, the more gold you earn. This gold can be used to augment your skills and increase your survival chances in this perilous world.
Tips and Tricks
Focus on upgrading your skills using accumulated gold as they significantly boost your strength and survival odds. Always stay vigilant of the hunters; their unexpected attacks can be fatal. Use your flight abilities wisely for both attack and defense.
Features
Multiplayer Game: Engage in thrilling battles with players from around the world.
Skill Upgradation: Upgrade vampiric abilities using earned gold.
Diverse Enemies: Fight against varied monstrous enemies.
Vampiric Flight: Use flight as a tactical advantage in fights.
What are the best online games?