Uriel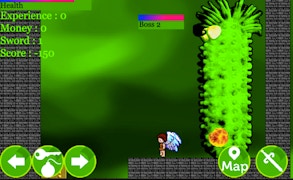 Uriel
If you're a fan of adventure, pixel games, dragon games, and monster games, then prepare to embark on an extraordinary journey with the challenging platform role-playing game, Uriel.
This is not your average mundane game. Uriel takes you on a true adventure through a pixelated world, filled with challenging obstacles, nerve-wracking moments and captivating storylines that will keep you on the edge of your seat from start to finish.
In this gripping tale, you'll come across beautifully crafted environments that are as intricate as they are breathtaking. The game's pixel art style is a highlight, giving it an indescribable charm that harkens back to the classic gaming era while still feeling fresh and relevant in today's gaming landscape.
When it comes to dragon games, Uriel certainly doesn't disappoint. The majestic creatures in this game are awe-inspiring yet terrifying, leaving gamers captivated by their power and richness. Playing around these gigantic beasts adds another layer to the thrilling gameplay.
The real showstopper is its robust roster of terrifying monsters. In line with some of the best monster games, Uriel pushes your gaming skills to the limits as you encounter a host of formidable foes in your journey. Each one is more formidable than the last, making every victory feel like an epic triumph!
To sum up, Uriel blends elements from traditional adventure, pixel, dragon, and monster games into one enthralling package that provides hours of challenging gameplay for even the most seasoned gamers. If you're up for a challenge and ready to dive into a world full of fascinating adventures and dangerous beasts, then Uriel awaits.
What are the best online games?