Two Impostor Squid Challenge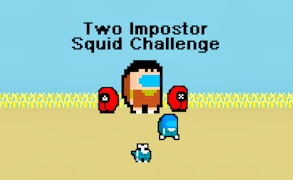 Two Impostor Squid Challenge
Description
Immerse yourself in the thrilling world of Two Impostor Squid Challenge! In this pixel-style action game, you and a friend must navigate your way through various survival tasks, drawing inspiration from the popular Squid Game series. With diverse challenges such as green light-red light and tug of war, each round is a heart-pounding experience.
How to Play
To play the game, each player uses different controls. The Blue Player, represented by "A", uses the press key and mobile touch control. The Red Player, denoted by "P", also uses the press key and mobile touch control. Quick reactions and strategic planning are key to winning this game.
Tips and Tricks
Collaboration is key in this game. Players must understand their partner's strengths and weaknesses to work together effectively. Keep an eye on your opponent while focusing on your tasks, especially in rounds involving movements like green light, red light for strategic advantage.
Features
Two-player mode: This game can be played with two players simultaneously.
Diversified challenges: Filled with various survival tasks inspired by the trending Squid Game series.
Pixellated graphics: Features visually striking pixel-graphic style that adds a retro touch.
Addictive gameplay: The intriguing mechanics make it hard to stop playing.
What are the best online games?