Twerk Run 3D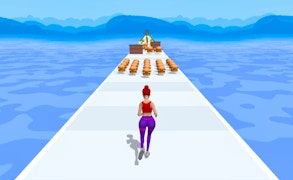 Twerk Run 3D
Unleashing as a captivating addition to the world of arcade and running games, Twerk Run 3D is a vivacious fusion of vibrance and dynamism. An epitome of Hyper Casual Games, this game tests your dexterity and quick reflexes, immersing gamers in an exhilarating sprint that's as addictive as it is entertaining.
In Twerk Run 3D, you don't just run; you grow! The goal is not simply to complete the race but to amplify your character's body, utilizing various power-ups in the environment. It's a quirky twist on traditional running games that sets it apart.
The controls are simple and intuitive, perfect for both seasoned gamers looking for lighter fare or newbies delving into the world of arcade gaming. Plus, its vibrant graphics and upbeat sound effects keep the energy high and the fun non-stop. The main challenge? A twerking competition! It's hilarious, it's challenging; it's something you wouldn't want to miss.
Beyond its gameplay, Twerk Run 3D also shines in its replayability factor. Each run is a unique adventure where players can strive for higher scores or compete with friends online. It's always exhilarating when you improve with each playthrough – a testament to an arcade game's success.
In conclusion, we have here a game that redefines what running games can be while holding true to the core values of Arcade and Hyper Casual Games. Twerk Run 3D dares to be playful, making sure that every run is not just about crossing the finish line, but also about having an ample dose of fun while doing so!
What are the best online games?