Triman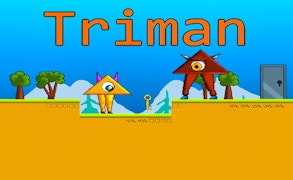 Triman
Description
In Triman, you are transported into an exciting 2D platformer world where every move counts. Your main objective is to navigate through various levels, collecting golden keys while avoiding obstacles and racing against the clock to reach the exit door. The game starts off easy but the difficulty escalates with each level, making for an engaging and addictive gaming experience.
How to play
The game relies on simple yet effective controls. Use "WASD" or "Arrow keys" for moving your character around. For reaching high platforms, use a double jump by tapping "W" or the "Up arrow key" twice in quick succession. Always keep your eyes peeled for golden keys on your path to the exit door.
Tips and Tricks
The key to success in Triman lies in timing your movements perfectly. Practice your double jumps often as they will help you over higher obstacles. Try planning your route ahead to make sure you don't miss any golden keys and always be alert for unexpected challenges.
Features
Straightforward yet challenging platformer mechanics.
Varying difficulty levels which escalate as you progress.
User-friendly controls suitable for players of all ages.
Exciting gameplay that tests both skill and strategy.
What are the best online games?