Treasure Hunter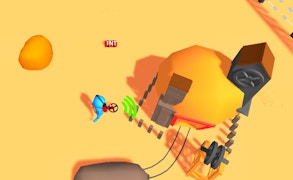 Treasure Hunter
Adventurers and strategists alike, buckle up for an exhilarating journey in the world of Treasure Hunter, a game that uniquely combines action with mining games and 2 player games. As a captivating blend of hidden object games, skill games, and stickman games, it seizes its players' attention with its dynamic gameplay and immersive plot.
In the beguiling saga of Treasure Hunter, you take on the role of a bold miner with a golden detector, navigating through an expansive map bursting with hidden treasures. Your mission is to mine the ground and claim these treasures before your opponents do - creating a thrilling race against time that aligns perfectly with the challenging dynamism typically associated with action games.
Treasure Hunter stands out amongst mining games not only for its compelling action scenarios but also for its intricate design set to test your skill levels. With every treasure hunt presenting new obstacles and puzzles to solve, it earns its place among other top-tier hidden object games and skill games.
The unique twist of incorporating elements of stickman games creates an artistic contrast against the intricately detailed map, adding another level of visual appeal. The two-player mode brings in the competitive spirit where players can put their mining prowess against each other - a feature that makes Treasure Hunter one of the most engaging 2 player games.
All in all, Treasure Hunter is more than just a game; it's an action-packed adventure where your strategic capabilities are as essential as your mining skills. The cleverly embedded challenges within each level ensure that gamers are constantly on their toes. So grab your gold detector and embark on this treasure hunting journey where every nugget mined takes you one step closer to victory!
What are the best online games?