Tower Defense Kingdom 2D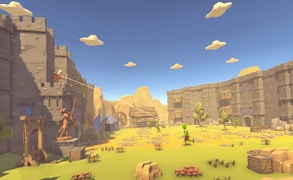 Tower Defense Kingdom 2D
Welcome to the adrenaline-pumping world of Tower Defense Kingdom 2D, a game of tactical choices and rapid reflexes that will test your strategic planning. This engaging title is an extraordinary blend of action-packed gameplay and nostalgic aesthetics, qualifying it as one of the best pixel-games out there. Its intricate design, strategic depth, and innovative mechanics make it a paramount addition to the realm of sword-games and battle-games.
This stand-out game immerses you into a vibrantly pixelated world fraught with monstrous threats. Choose your weapons wisely, whether they be arrows or swords, arrow-games and sword-games enthusiasts will find their fill in this game. Vanquish your enemies in exhilarating battles as you defend your kingdom with an arsenal of strategically placed towers.
In TD Kingdom 2D, each thrilling encounter with the hordes of intimidating monsters leaves you at the edge of your seat. You'll gain an obsessive love for these beautifully designed monster-games, thanks to its captivatingly challenging gameplay that calls for efficient resource management and strategic placement to fend off relentless waves of fierce creatures.
The visual charm of TD Kingdom 2D is undeniable. The inviting retro aesthetic filled with colorful pixel art transforms this competent tower defense game into a bonafide work of digital art. The meticulously designed monsters, the detailed landscapes, all have been rendered lovingly in this attractive style making it a must-play for fans of pixel-art games.
To sum up, Tower Defense Kingdom 2D is not just a game; it's an immersive experience that blends strategy, action, and nostalgia into one tantalizing package that all avid gamers need to explore. Its unique gameplay mechanics, along with its riveting graphics, set it apart from the crowd, making it a jewel in the realm of action games.
What are the best online games?