Tower Defense Alien War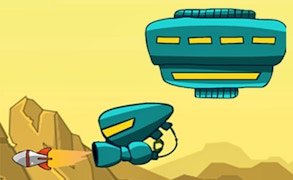 Tower Defense Alien War
If you're a fan of war games and battle games, particularly with a penchant for tangling with otherworldly creatures, Tower Defense Alien War is one game that surely won't disappoint. This gripping tour de force game effectively mashes up the familiar elements of classic tower defense with an exhilarating alien invasion plot, offering a fascinating blend of strategy and action.
Each level throws you into the midst of an intense war where your primary objective is to safeguard your castle from the relentless onslaught of alien troops. The game's level design is both challenging and engaging, ensuring that no two battles are ever the same. Be prepared to adjust your strategies on-the-fly as new, more powerful alien forms attempt to lay siege to your fortress.
A standout aspect of Tower Defense Alien War is its spectacular arsenal. Your weaponry isn't just a bunch of generic guns - these are upgradable powerhouses complete with guided missiles set to intercept and obliterate the invading waves! The more destruction you cause, the more gold you earn - paving the way for even more potent upgrades.
In terms of monster games, Tower Defense Alien War sets itself apart with its intricate alien designs. These aren't your run-of-the-mill extraterrestrial foes; each monster boasts unique abilities that require different strategies to overcome, thereby boosting replayability value.
To sum up, Tower Defense Alien War ticks all the right boxes for an enthralling action-packed gaming experience. Its robust blend of tower defense mechanics, invigorating battles, diverse arsenal, and unique monster designs make it a must-play title for all fans of war games or monster-themed battle games. Just remember - in this turbulent alien war, your success hinges on your ability to strategize and adapt!
What are the best online games?