Toon Infinite Runner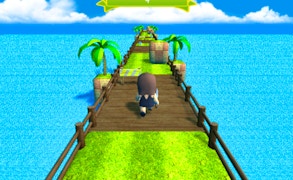 Toon Infinite Runner
Inject some animated intensity into your gaming routine with the adrenaline-pumping Toon Infinite Runner. Among the vast panorama of running games and skill games currently available, this gem stands out vibrantly for its engaging gameplay elements and eye-catching aesthetics.
Join the auspicious league of runner toons, where every stride, jump, and slide counts. With a postmodern twist on traditional running games, Toon Infinite Runner seamlessly combines the thrills of endless running with the satisfaction of skill-based progress. As you traverse through diverse landscapes and dodge quirky obstacles, you'll find yourself immersed in a world that's equal parts whimsy, challenge, and fun.
The name of the game is to run as much as you can. Push your limits, beat your record, and see how far your animated alter-ego can go. However, it's not just about sprinting aimlessly. Strategy comes into play here as well - timing your jumps right, deciding when to duck or dash are all crucial elements that elevate this game above its competitors in skill games.
The money-collecting mechanic makes it even more exciting. With coins scattered across the map like breadcrumbs in a fairytale forest, every coin pocketed edges you closer to coveted power-ups and accessories. So it's not just about moving forward; it's also about being resourceful enough to secure valuable assets whilst in motion.
In summary, Toon Infinite Runner hits all the right notes if you're seeking a mix of exhilaration and strategic thinking in running games. A blend of visually appealing graphics and intriguing gameplay dynamics has successfully catapulted this entrant into 'must-play' territory for any ardent fan of skill games.
What are the best online games?
TAGS