Tomb Runner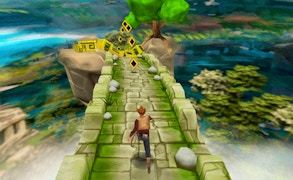 Tomb Runner
Immerse yourself into a world of high-paced, adrenaline-packed action with Tomb Runner, a stellar addition to the genre of action running games. This game leapfrogs traditional expectations, setting itself on a pedestal high above other skill games.
Endlessly alluring, Tomb Runner presents an academic adventurer named Professor Jones, whose sole objective is to outrun an onslaught of hurdles that come his way. Run, jump and slide your way through a medley of intricate terrains - sprawling temples, exotic landscapes, imposing bridges and underground subways. The beauty palette Tomb Runner offers is not just visually stimulating but also mechanically challenging.
The game's concept might sound repetitive but that's where you'd be mistaken. Tomb Runner brings an element of unpredictability with its varying level of challenges in the form of obstacles. Each level demands your utmost attention and a certain degree of dexterity to navigate safely while collecting coveted gems, special powers and coins.
This game doesn't just offer thrilling gameplay but also rewards its players with the opportunity to unlock cool characters. From the spunky Lara Bones to the mysterious Agent 99; from an intimidating Mummy to a groovy Disco Dancer – each character comes with their unique abilities that add a refreshing layer to your relentless running.
What makes Tomb Runner so captivating is its endless running fun. The longer you survive, the more addictive it becomes. Each level surpassing the next in excitement and thrill.
If you're seeking action-packed adventure with elements of strategy and skill, then Tomb Runner is crucial for your gaming library – where danger lurks at every corner but so does endless fun and excitement. Dive into this running adventure today!
What are the best online games?
TAGS