Tiny Clash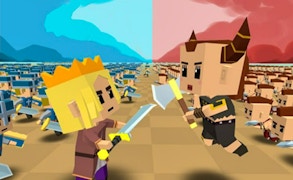 Tiny Clash
In the immersive world of action-packed battle games, there's a new contender that has grabbed the attention of the gaming community - Tiny Clash. This enchanting game offers players an exhilarating blend of knight games, war games and sword games. If your gaming heart beats for strategic warfare, then Tiny Clash will make a knight out of you.
Tiny Clash guarantees an adrenaline pumping journey where you have to rally your forces, build a fearless army, enhance your supreme commander, and charge into enemy lines. The ultimate goal? Cementing yourself as the strongest knight in the realm. The game combines elements from knights' sagas and epic war stories, creating an utterly engaging experience.
What sets Tiny Clash apart from other knight games is its unique balance between strategy and warfare. On one hand, you're required to strategize about troop placement and attack plans; on the other, you're thrown right into the heart of battle where swords clash and warriors roar. The thrill of charging into battle with your meticulously assembled army is a sensation that only true war game enthusiasts will understand!
The commanding general aspect turns things up a notch. Ascending from a common soldier to a powerful commander is an exhilarating journey in this action-packed saga. It gives you a sense of pride akin to knights commanding armies in grandiose wars.
Overall, Tiny Clash marks its territory in the realm of battle games. It combines all elements loved by fans of war and sword games while introducing fresh concepts that keep players coming back for more. The taste of sword steel, the battle cries filling our speakers - this game brings the war right to our living rooms.
If you are in search for something raw and grounded in the realms of knights and warfare, then strap on your helmet because Tiny Clash will take you on an unforgettable ride. It truly lives up to its promise - You will be indeed be the strongest one!
What are the best online games?