Thrill Rush 4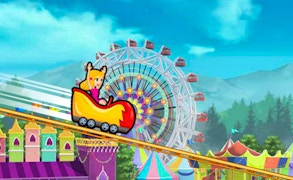 Thrill Rush 4
Unleash your adrenaline with our latest review of the exciting action game, Thrill Rush 4. This fast-paced game is a must-have for gaming enthusiasts who love heart-pounding adventure and riveting challenges. Branded as one of the top running games, Thrill Rush 4 pushes gamers to their limits with its electrifying and unpredictable course.
From the moment you strap in, Thrill Rush 4 takes you on an epic journey through giant blocks and gaping voids that pop up unexpectedly in your path. Fail to manoeuvre these obstacles correctly, and it's game over! The stakes are high in this high-octane rollercoaster ride that leaves no room for error.
The game effectively tests your mettle for both daytime and nighttime conditions, adding a fascinating twist to this thrilling ride. The transition from day to night will keep you on your toes, demanding quick reflexes and razor-sharp focus.
Apart from being an outstanding addition to running games, Thrill Rush 4 stands out as one of the premier skill games. The lightning-quick decision making, precision timing, and agile movements required will push every gamer's skills to the brink. The challenging terrain and sudden obstacles serve as an excellent training ground for honing your gaming skills.
In conclusion, Thrill Rush 4 is not just about outrunning obstacles; it's about adventure, thrill, suspense, and above all – skill! It's truly a landmark in the realm of action-packed running games. So brace yourself for an unforgettable journey and sharpen those reflexes because when it comes to Thrill Rush 4 – you're in for the ride of your life!
What are the best online games?
TAGS